Public Speaking
Davíd Carrasco is a celebrated and engaging public speaker. To have Davíd speak at your event contact Charlene Higbe at [email protected].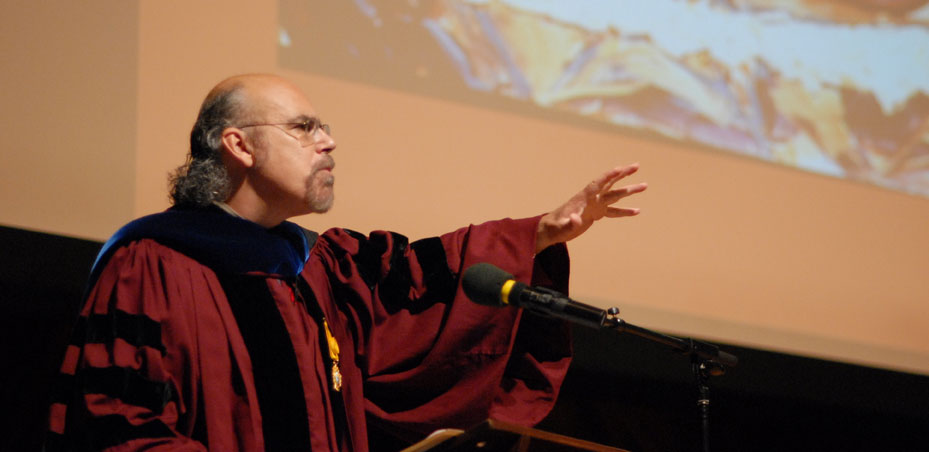 Carrasco Drives Effort Behind Harvard's Eduardo Matos Moctezuma Lecture Series
See Davíd Carrasco lead the way in inaugurating the "Eduardo Matos Moctezuma Lecture Series" in Mexico and Harvard. This is the first time in Harvard's almost 400 years that a lecture series in the name of a Mexican scholar has been launched.
The Announcement (1:32)
The Full Event (1:16:55)
Carrasco and Cornel West Together Again
Black/Brown Dialogues in the Future!
HDS Professor of the Practice of Public Philosophy Cornel West delivered the 2017 Convocation address "Spiritual Blackout, Imperial Meltdown, Prophetic Fightback," on August 29, 2017.
Davíd Carrasco and Cornel West
"Whose Eyes on What Prize: A Black and Brown Discussion of Shades of Invisibility", Doris Sommer Responds
Davíd Carrasco and Cornel West in "Whose Eyes on What Prize: A Black and Brown Discussion of Shades of Invisibility", Doris Sommer Responds
American University Athletics Hall of Fame
David Carrasco Speech for Dickie Wells '65
Davíd Carrasco spoke at the American University Hall of Fame several years ago. Check out this stirring speech about how his father recruited and coached Dick Wells the first African American basketball player to play college ball in the nation's capital—at American University. Besides the historically black Howard University other schools like Maryland, George Washington, Georgetown and Catholic University did not recruit or support African Americans to play in college sport until after Coach Carrasco's American University teams.
The Art of Navigation:
Discussing Heritage, Sacred Space, and the Academic Study of Religion
Hear David Carrasco, University of Chicago Divinity School's Alumnus of the Year (2014) hold forth about the formation of his own thought as an Historian of Religion working in Mesoamerican cities and symbols. Carrasco tells the story of how he created his distinctive "ensemble" approach by running his own threads of thinking and emotion through the works of the Romanian Mircea Eliade, the African American Charles Long, Mexican poet Octavio Paz and British urban ecologist Paul Wheatley. Follow his storytelling about how his Mexican American identity prepared him to travel with Toni Morrison to Mexico City to meet with Gabriel Garcia Marquez. Its worth a listen for as the actor Peter Fonda once said when he heard Carrasco speak at the Santa Fe Film Festival, "I wish I could speak like you. I can only act like I can speak like you!"
A River Runs Through It:
Deep Heritage, Disruptions and the Choices of Hope
Carrasco spoke at the UTSA Mexico Center and the UTSA Center for Cultural Sustainability hosted conference "Bridging Cultures: Assessing the Cultural Heritage of the Rio Grande/Rio Bravo Borderland"
Paul Farmer and Davíd Carrasco on Liberation Theology
Partners in Health founder and Harvard's Kolokotrones University Professor of Global Health and Social Medicine Paul Farmer discusses how he was influenced by liberation theology. Farmer spoke with Davíd Carrasco, the Neil L. Rudenstine Professor of the Study of Latin America, and HDS student Lauren Taylor on February 11, 2014. The event was sponsored by Harvard Divinity School's Science, Religion, and Culture Program.