About Davíd
Davíd Carrasco is "a man of our time, a man of enormous vitality and value," (Carlos de Icaza, the Ambassador of Mexico), who holds the inaugural Neil L. Rudenstine Professor of the Study of Latin America at Harvard University with a joint appointment at the Harvard Divinity School and in the Department of Anthropology of the Faculty of Arts and Sciences. Carrasco is an award winning author and editor and has received outstanding teaching awards from both the University of Colorado and Harvard University.
Carrasco's creative work in the history of religions has been lauded for its "existential oomph" which has resulted in the celebrated Cave, City and Eagle's Nest (with Scott Sessions) Gold Medal from Publishers of the West, and City of Sacrifice, lauded by Carlos Fuentes as a "brilliant, provocative, timely and eternal book". He is a leading interpreter of Latino/a cultures and the executive co-producer of the film "Alambrista: The Director's Cut" which puts a human face on the ordeal of undocumented immigration into the United States.
Carrasco lectures widely in the United States and abroad and was awarded the Mexican Order of the Aztec Eagle for his contributions to understanding the history and cultures of Mexico.
News
September 12, 2018
More coverage in American Indian Magazine of the upcoming four-part series "Native America," from Providence Pictures airing on PBS this fall. Watch it on Tuesday evenings starting Oct. 23, 2018, from 9–10 p.m. ET.
Native America on PBS
September 4, 2018
Davíd Carrasco with Zuni farmer, scholar and river guide Jim Enote at the launch for PBS TV series "Native America" at the Television Critics Association Press Tour in Los Angeles. Enote and Carrasco are featured in several of the four episodes that will air starting October 23rd.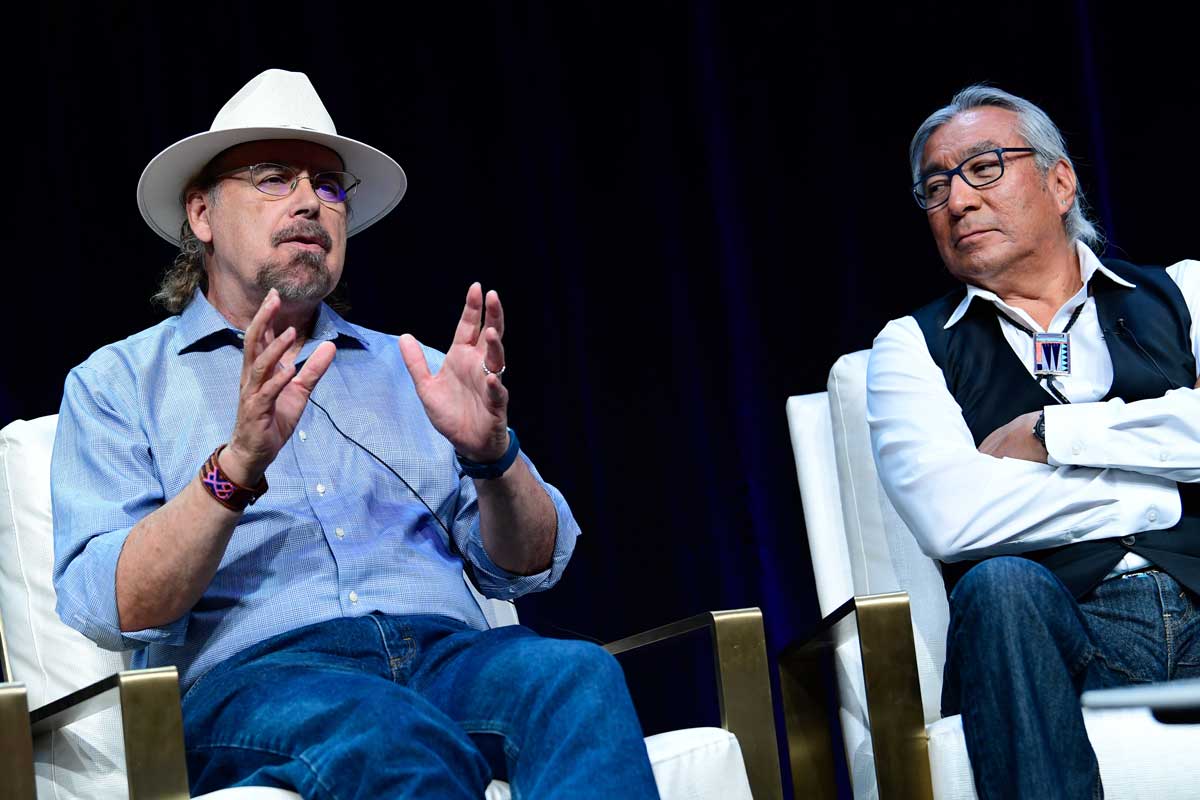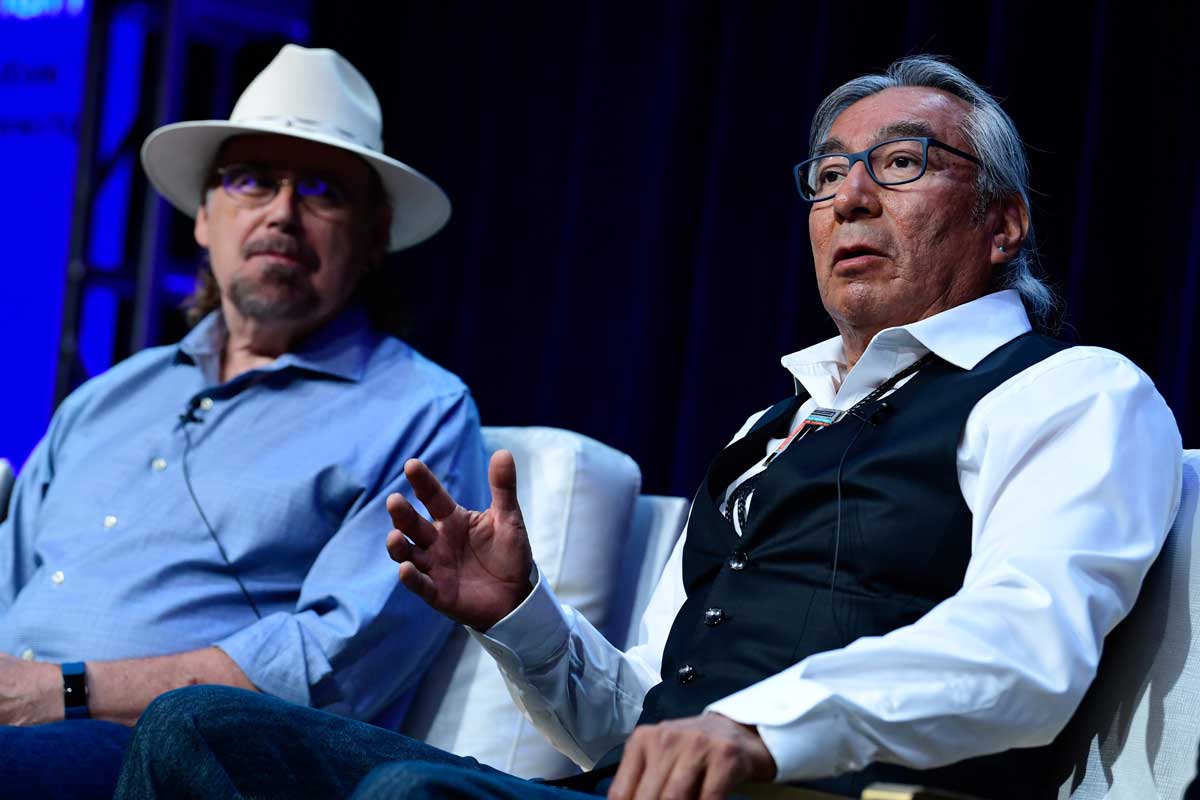 June 12, 2018
"I'm immersing myself in Toni Morrison's writings this summer. This task and pleasure is driven by the book project Professor Stephanie Paulsell, Mara Willard, and I are doing with Toni Morrison about the religious dimensions of her writings. This book, 'Goodness: Altruism and the Literary Imagination,' to be published by the University of Virginia Press, emerges from…continue reading
Carrasco Helping in "Making Change" at Harvard Divinity School
April 20, 2018
Davíd Carrasco is one of the faculty leaders in this new Executive Education Program, "Making Change" taking place this June 18-21 at the Harvard Divinity School.
Carrasco Delivers Inaugural "Anthony Aveni Lecture in Native American Studies"
April 5, 2018
The event occured at Colgate University in honor of Carrasco's longtime mentor, friend and colleague, Anthony Aveni.
Family Photo
March 16, 2018
Carrasco's mother, age 94, in front of a mural honoring his father, David L. Carrasco, in El Paso, Texas.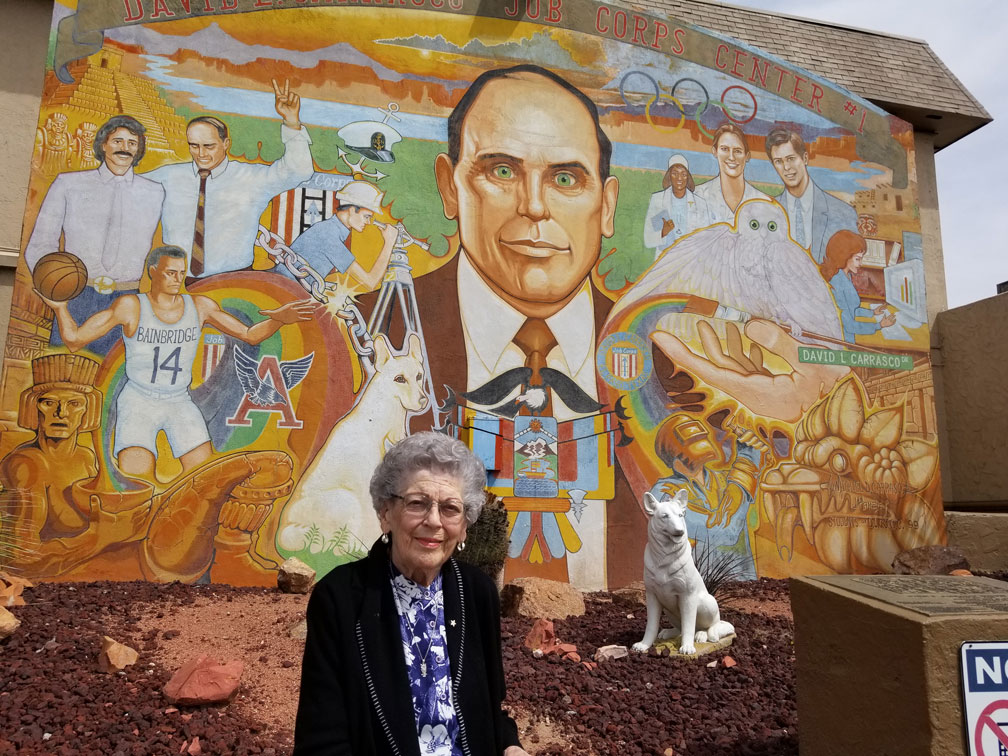 Another Humanities Approach
November 2, 2017
Harvard Gazette covers a weekly dialogue, "Quests for Wisdom: Religious, Moral, and Aesthetic Experiences in the Art of Living," co-created by Carrasco and Professor Arthur Kleinman that looks at wisdom as it relates to how we experience the world, and the strategies we need to have a moral life amid uncertainty.
Expanding Coverage of Carrasco Initiated Lecture Series
November 2, 2017
"…To recognize the seminal importance of [Eduardo Matos Moctezuma and Carrasco's] research, leading Harvard University scholars traveled to Mexico in October 2017 to inaugurate the Eduardo Matos Moctezuma Lecture Series." Full article on Harvard Divinity School Site
Day of the Dead Festivities at the Peabody Museum
October 30, 2017
Video on Facebook of Day of the Dead/Dia de los Muertos celebrations at Harvard's Peabody Museum of Archaeology and Ethnology curated by Carrasco and Mexican artist Mizael Sanchez.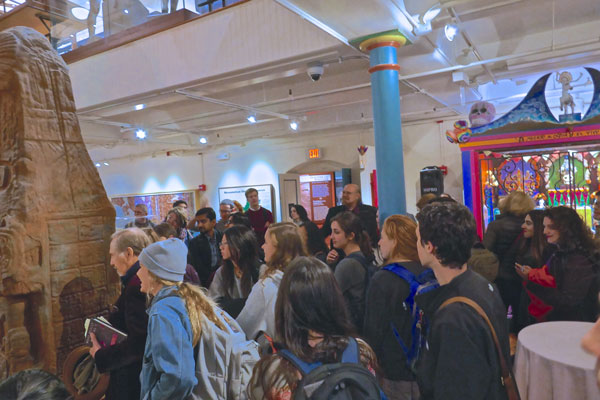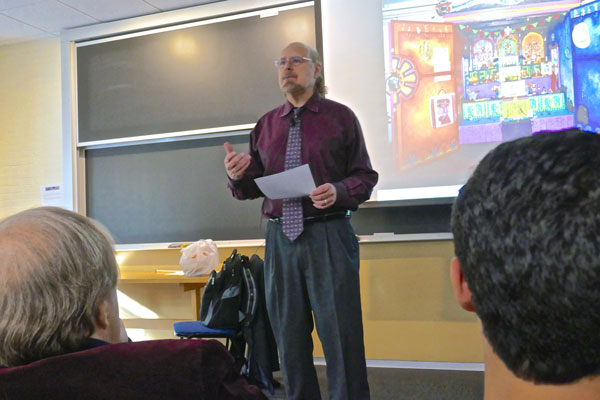 Carrasco Drives Effort Behind Harvard's Eduardo Matos Moctezuma Lecture Series
October 6, 2017
See Davíd Carrasco lead the way in inaugurating the "Eduardo Matos Moctezuma Lecture Series" in Mexico and Harvard. This is the first time in Harvard's almost 400 years that a lecture series in the name of a Mexican scholar has been launched.
The full event
The announcement (length 1:32):
Carrasco and Cornel West Together Again
August 29, 2017
Black/Brown Dialogues in the Future!
HDS Professor of the Practice of Public Philosophy Cornel West delivered the 2017 Convocation address "Spiritual Blackout, Imperial Meltdown, Prophetic Fightback," on August 29, 2017.
On "Place" and Charlottesville
August 14, 2017
Pay attention to the history of "Place". What I find largely missing in the critical commentary about the terrible events in Charlottesville is the fact that this is the town and university where Thomas Jefferson, one of our Founding Fathers lived, wrote, owned slaves and produced mixed race offspring—largely based on his white raced privilege. Jefferson's language of "all men are created equal," often quoted in the last several days, did not mean Africans or African Americans or Native Americans for that matter—nor Mixed Race people for that matter. That the riot (if Blacks had been the majority participants would this be referred to now as a "race riot?") and killing of Heather Heyer took place in this Virginia town also points us back to this historical place as one place of the OFFICIAL origins of white supremacy in the United States. Paying attention to the "history of place" leads us to think harder about how old, deep and intractable white supremacy is, in the US story.
Carrasco Weighs in: Reza Aslan's CNN Offering Disappoints
April 13, 2017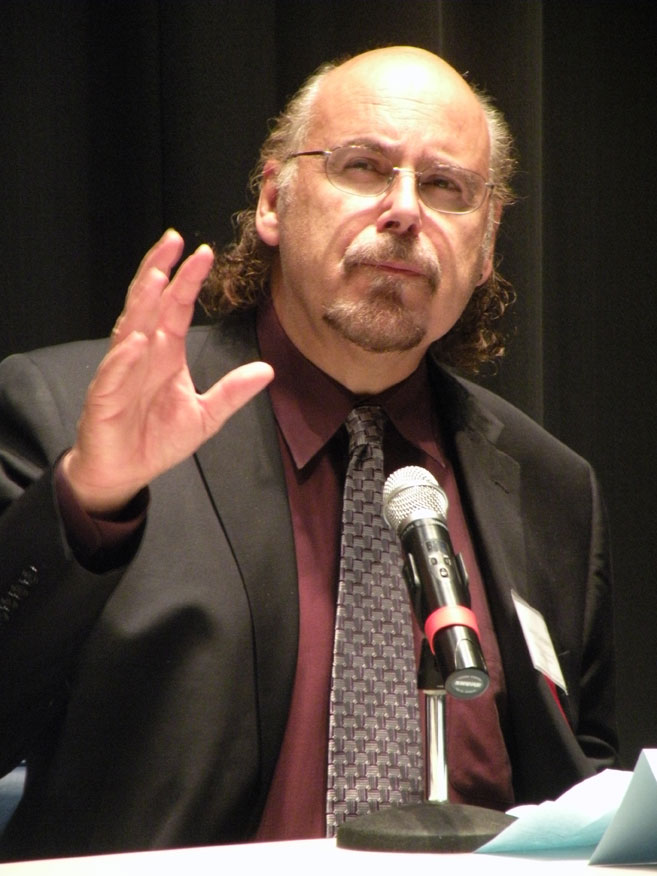 The Huffington Post published an account of Davíd Carrasco's response to an episode of Reza Aslan's show Believers on CNN.
Carrasco dialogues with biologist Brian Farrell about the nature of consciousness.
March 27, 2017
Carrasco appears in an article in the Harvard Gazette following biologist Brian D. Farrell's lecture at the Harvard Museum of Natural History exploring the roots of consciousness.
Video of the lecture is on Facebook. Carrasco's remarks begin at 1:07:45
March 15, 2017
Some years ago African American philosopher Cornel West and Mexican American historian Davíd Carrasco met at Sanders Theater, Harvard University, to forge a public dialogue about "Brown and Black" social and intellectual partnerships to help the "new demography become a better democracy." This phrase, made popular by Carrasco, and its possibilities are under aggressive political and psychological attack by changing policies and familiar forces in the US. Therefore the Black and Brown dialogues, alliances, and organizing between African American and Latino peoples are needed more than ever. Watching these videos will help the partnership develop in elevating and fruitful ways.
Whose Eyes on What Prize: A Black and Brown Discussion of Shades of Invisibility